13th Glückstour: a cycling tour for chimney sweeps
The Glückstour: from the 20th to the 26th of June 2018, around 30 chimney sweeps from all over Germany cycled from Düsseldorf to Hamburg for a good cause. Their goal: to collect as many donations as possible. For 13 years, the proceeds from Glückstour initiatives have been donated to help children with cancer and their families.
The donations from Glückstour e.V. are distributed at each of the target stages, to local associations and groups which look after children and further cancer research.
Collection with social responsibility
In 2018, Glückstour reached a new record amount: 208,350 EUR was collected in donations. It will be distributed next year on the journey to Rostock. EuroTreuhand Inkasso (ETI) is a long-time sponsor of Glückstour, and is happy to have contributed 10,000 EUR to the amount donated this year.
These sponsored cycle tours have already collected 1.8 million EUR in donations.
"This sum makes us one of the largest private aid programmes in Germany."
Andreas Walther, master chimney sweep from Göldenitz and acting CEO of Glückstour e.V.
Prominent racing cyclists and athletes have also taken part in the past years: Matthias Steiner, Dieter Uebing, Udo Bölts, Roberts Bartko, Marcel Wüst, Kai Hundertmarck, Fabian Rießle and Jens Heppner have supported Glückstour. Erik Zabel and Eva Brenner came along this time, creating more publicity.
ETI stand at the finishing line in Hamburg
ETI welcomed the Glückstour cyclists at their destination in Hamburg. Stefanie Steinbach and Thomas Algermissen greeted the cyclists and friends, family and supporters at a stand covering the achievements of the collection chimney sweeps.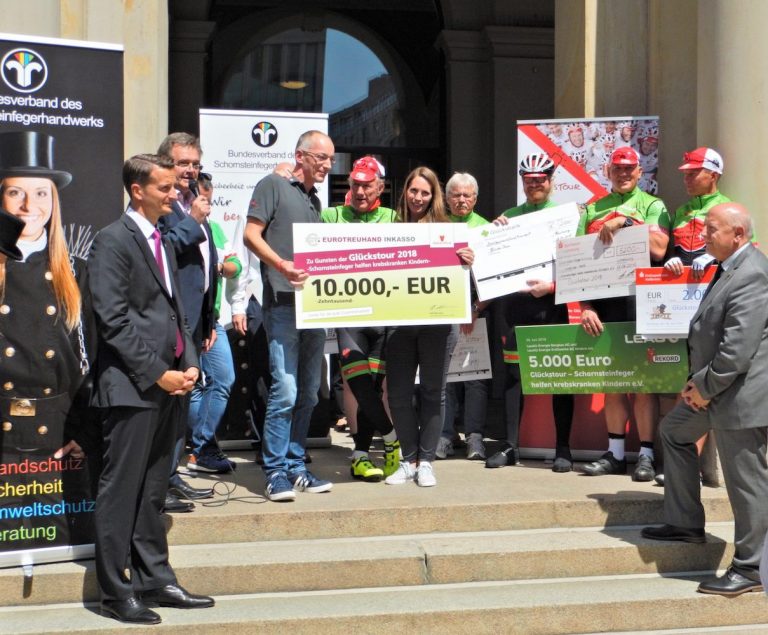 "We have the highest respect for the social engagement of the chimney sweep trade, and are happy to be able to contribute to it. It is also really fun to be a part of the Glückstour and to experience people's excitement when a new stage is reached."
ETI is the leading provider of collection services to the chimney sweep trade. Confident in the sector, ETI takes care of all routine business areas. This personal collaboration with chimney sweeps has grown over many years and is characterised by mutual trust. ETI will also support the 14th Glückstour next year.
Keywords: